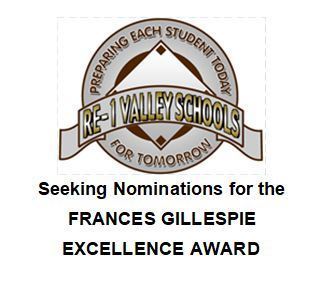 Attention: Alumni, Community Members, Staff and Students
RE-1 Valley School District is now seeking Nominations for the annual Frances Gillespie Excellence Award.
The Frances Gillespie Excellence Award recognizes outstanding service of RE-1 Valley employees to the District, students, co-workers and the community. If you feel an employee who has worked in the District for a minimum of five consecutive years, is currently employed in the District, and has not previously received the award deserves to be a recipient, please consider completing a nomination form.
The District annually recognizes up to four employees. The recipients are announced at the annual retirement event and a presentation to recipients is made at the general staff meeting at the beginning of the next school year.
Nomination forms may be obtained via email from harlowk@re1valleyschools.org. Documentation and any supporting materials must be returned no later than 4:00 p.m., on Monday, May 11, 2020 to the same email address.
* The original documents requirement has been waived for the 2019-2020 School year due to COVID-19.