Ayres Family, please remember school is dismissed at 11:30 AM tomorrow morning (Thursday). We will hold the traditional bubble walk for second grade at 11:20, but it will be outside near the cottage. Students will dismiss from there to their normal pick-up zone. Thank you all!!

Ayres Family, until further notice, you may now return your student to school following an appointment. Please remember that while the mask restriction has been lifted for many venues, schools in Colorado still must wear them. Also, we still are not accepting deliveries for students. Thank you. - Principal Joe Skerjanec

Ayres Family, the PTO fundraiser distribution is still tomorrow, April 1, from 1:00-5:00, but the location is moved to the fairground grandstands. All butter braids must be picked up, for we do not have freezer space. Thank you all for supporting our PTO!

Class pictures have been POSTPONED!! As soon as we have a new date, we will let you know. We will hang on to your order form and money- if we do not reschedule, we will return it to you.

PICTURE MAKEUP/RETAKE day will Wednesday, February 17, 2021 from 10:45 am to 11:30 am. If you were absent during pictures, please come ready for pictures on this day. If you need a retake, please read the back of your envelope, you must return your original packet on retake day. You can order online by going to the website address below and using the access code: AYRES2020
www.skillmanphotography.com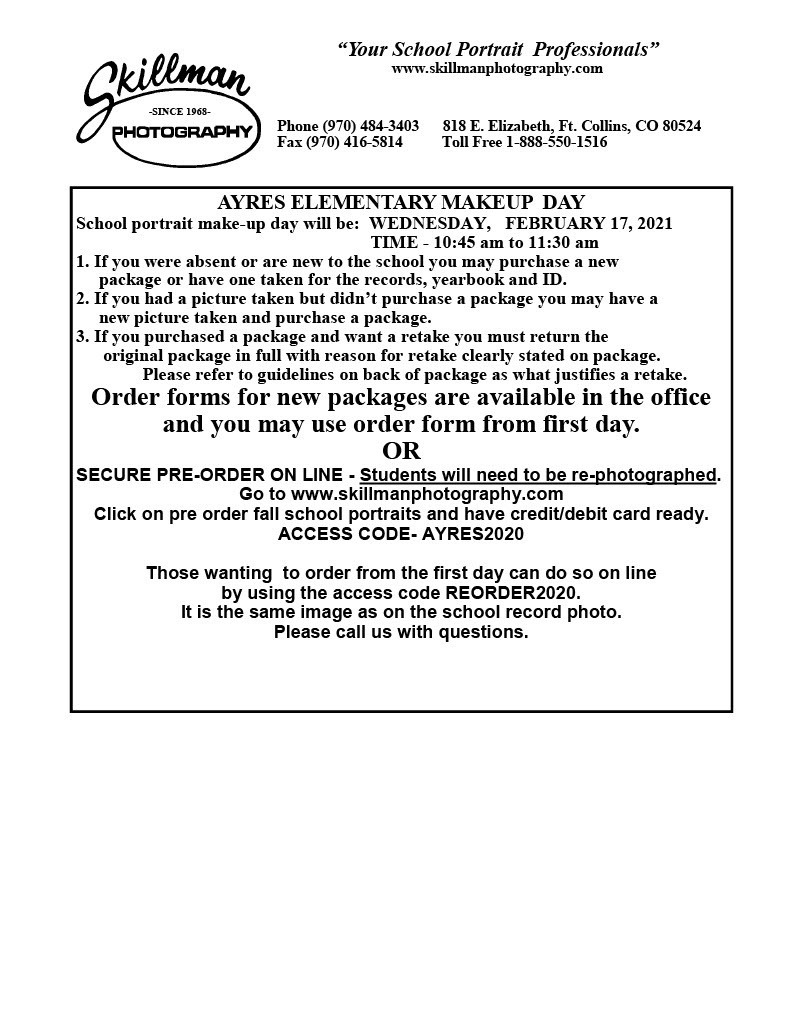 The Board of Education will hold their January Business Meeting today, January 26, 2021, at 6:00 pm. Access the agenda at
https://5il.co/ox91
, Join with Google Meet: meet.google.com/mvf-cifz-icm or by phone ‪(US) +1 402-855-5140 PIN 399 288 582#, If you attend the meeting please complete the electronic sign in sheet at
https://forms.gle/7TiLGZdDMvcjfG8PA
.

REMINDER: Thursday January 14, 2021 Ayres Elementary Picture Day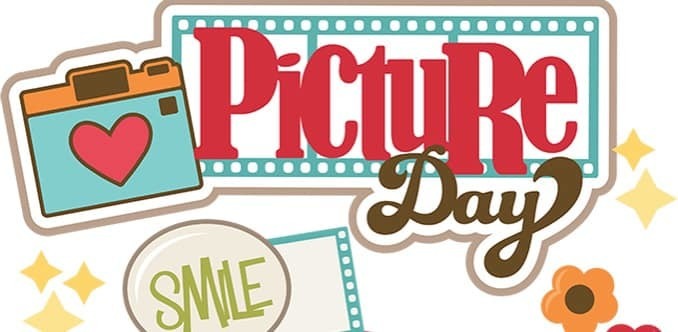 Welcome back, Ayres Family! We look forward to seeing the students in the morning. It has been a nice break, so it's time to get back at it. I would also like to inform you that we welcome our new music teacher tomorrow as well. His name is Mr. Pratt and we are elated to welcome him to Ayres. Make a great evening, and we'll see everyone in the morning!

The Board of Education will hold their November Business Meeting on November 11, 2020 at 6:00 pm. Access the agenda at
https://5il.co/n3y5
, Join with Google Meet: meet.google.com/thh-cvdi-tzr or by phone ‪(US) +1 352-509-5591‬ PIN: ‪546 085 717‬#, If you attend the meeting please complete the electronic sign in sheet at
https://forms.gle/SdsoiD79FhdWBXWD9
.

Ayres Elementary Big Kahuna Fundraiser Fall 2020



The state of Colorado requires that all students in the public school system be compliant with state required vaccinations. This also includes those students who are remote/virtual and enrolled in RE#ONE pathways. Legally students are not allowed to be in school if their vaccinations are not compliant. Compliant means that the student's vaccinations are completed and compliant in our system, an exemption form is signed and turned in or there is a plan in process (the student has a doctor appointment to receive the vaccination). The school will need a note from the doctor's office stating they will be receiving the vaccination on "this date". The health assistant will then follow up after that date. This year the exclusion date for non-compliant student vaccinations is October 30th. Your child will not be allowed to come to school on or after October 30th if they are not compliant with their vaccinations. If you are unsure about your child's vaccination status, please reach out to the health office your child's school and they can assist you. Resources for vaccinations include: Any primary care provider office Northeast Colorado Health Department Any of the pharmacies Links to required vaccinations and exemption forms
https://www.colorado.gov/pacific/cdphe/schoolrequiredvaccines
https://www.colorado.gov/pacific/cdphe/vaccine-exemptions
The health office and the district appreciates your cooperation with this.

This is usually the time for school pictures, but they have been postponed until sometime in January. We will let you know when we have a date!

Letter from Superintendent Shila Adolf: Dear RE-1 Family Members, I want to pause a moment and recognize one of our fallen team members, Mr. Wally Beardsley. This loss has directly impacted many students and staff, and I would like to take the time to celebrate his life. Mr. Beardsley was a cherished educator in our community from 1983-2020, and we will continue to live out his legacy. In honor of Wally's service, I have chosen to cancel school District-wide on Friday, October 9, 2020, to allow staff and students the opportunity to participate in the events celebrating his life. Though many COVID restrictions inhibit us all from interacting in ways that feel normal and valuable to us. The RE-1 Valley Administrative team is asking for our community to pull together in a Day of Honor and Service to show our respect for an individual born in this community, grew up here, was a constant advocate for youth, and a steadfast community supporter. Please use time on this day to give back to the community in a way meaningful to your family, share a random act of kindness, take a walk, pick up some trash in the neighborhood, or take the time to connect with family. Wally would have been proud to see people give back to our families and neighbors. In the wise words of Wally, "Work hard and do your best because it makes others around you better." Thank you for your patience with this cancellation as we honor a wonderful man. Sincerely, Shila Adolf Superintendent RE-1 Valley School District



The Board of Education will hold their next monthly Business Meeting at 6:00 p.m. on Tuesday, September 22, 2020. Access the agenda, with links to join the meeting, at
https://5il.co/l75a

The Board of Education has called a special meeting for Friday September 18, 2020, at 4:15 pm via Google Meet. Access the Agenda with links to the meeting and sign in sheet at
https://5il.co/l5ae

RE-1 Valley School District would like to thank Walmart for the gift of school supplies for our students. Each school received $100 worth of supplies. We are so grateful to have such a great community partner.