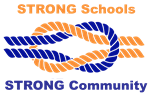 OUR SCHOOLS:
In 2005 RE-1 Valley moved away from neighborhood schools. For elementary school all students that live in town attend Ayres Elementary for Kindergarten through Grade 2, then go to Campbell Elementary for grades 3-5. Grades 6-8 attend Sterling MS and grades 9-12 go to Sterling High School. Caliche is a pre-k-12 facility that serves students from Iliff, Crook, Padroni, and surrounding areas.
MILL LEVY OVERRIDE EXPENDITURES BY YEAR
HOW STRONG ARE WE? ACCREDITATION TIMELINE
Click picture for larger image and access to each year's data.