There is no RE-1 Valley Board meeting on Tuesday August 2. This was a possible extra meeting that was considered, but now it is determined that this extra meeting will not be held. Thank you.
The June 13 RE-1 Valley School Board meeting is now rescheduled to Tuesday June 14 at 6:00 PM.
The RE-1 Valley School Board meeting on Monday May 23 will start at 6:30 PM.
The RE-1 Valley School District is seeking volunteers to participate in the interviews of finalists for the position of Superintendent of Schools. Please see the below link to access the request form. Please submit before 3:00 PM on Friday May 13. If you already have submitted the JPEG form earlier this week, no action is needed on your part.
https://5il.co/1ag8p
Superintendent Request Form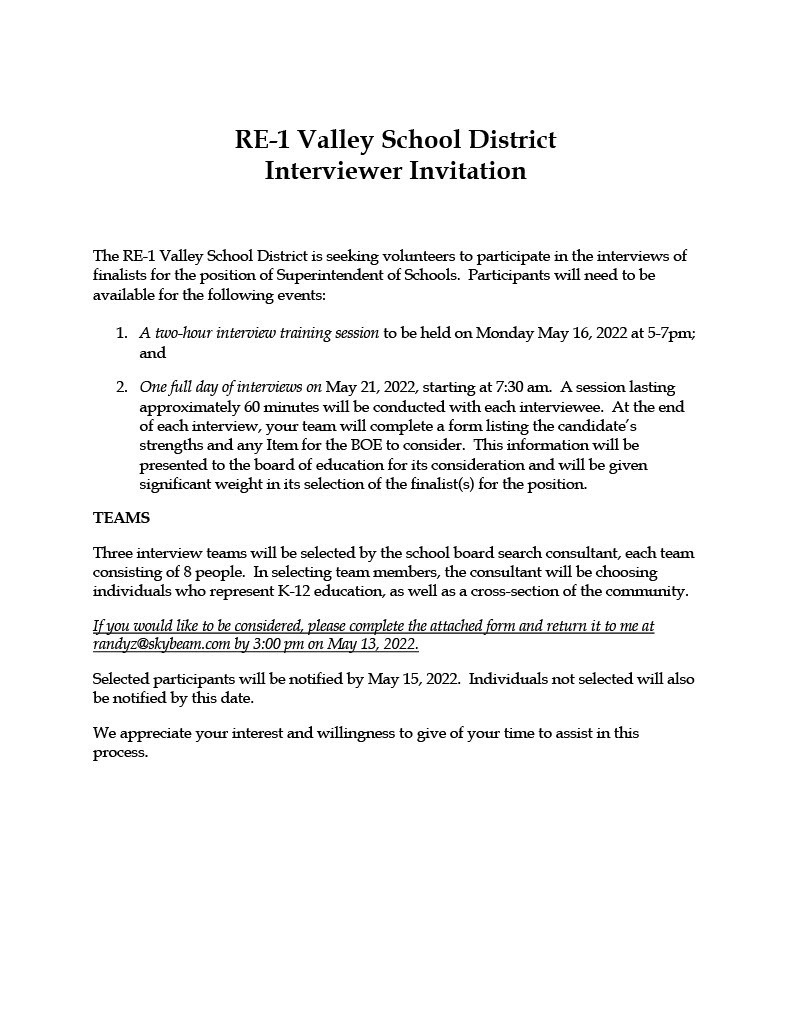 The April 25 RE-1 Valley School Board meeting is now rescheduled to Thursday April 28 at 6:00 PM.
The scheduled board meeting for Monday, April 25th, is being rescheduled due to one of the board members being ill. We are hopeful to reschedule the meeting for Wednesday or Thursday of this week. Please watch the RE-1 Announcements.
2022-2023 Calendar Survey results disaggregated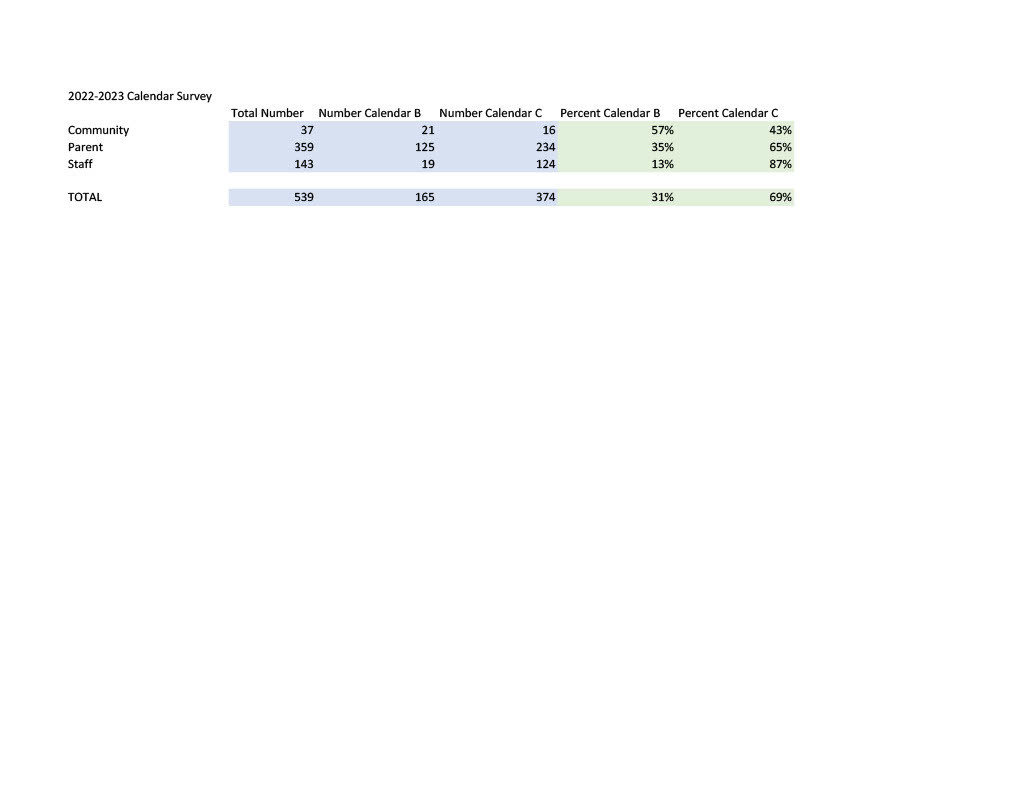 Thank you to all that participated in the 2022-2023 district calendar survey. Your input was appreciated. Calendar C had the most votes (69%) versus calendar B (31%). Calendar C was adopted at last night's RE-1 Valley School Board meeting for our next year's calendar. The results of the survey are below: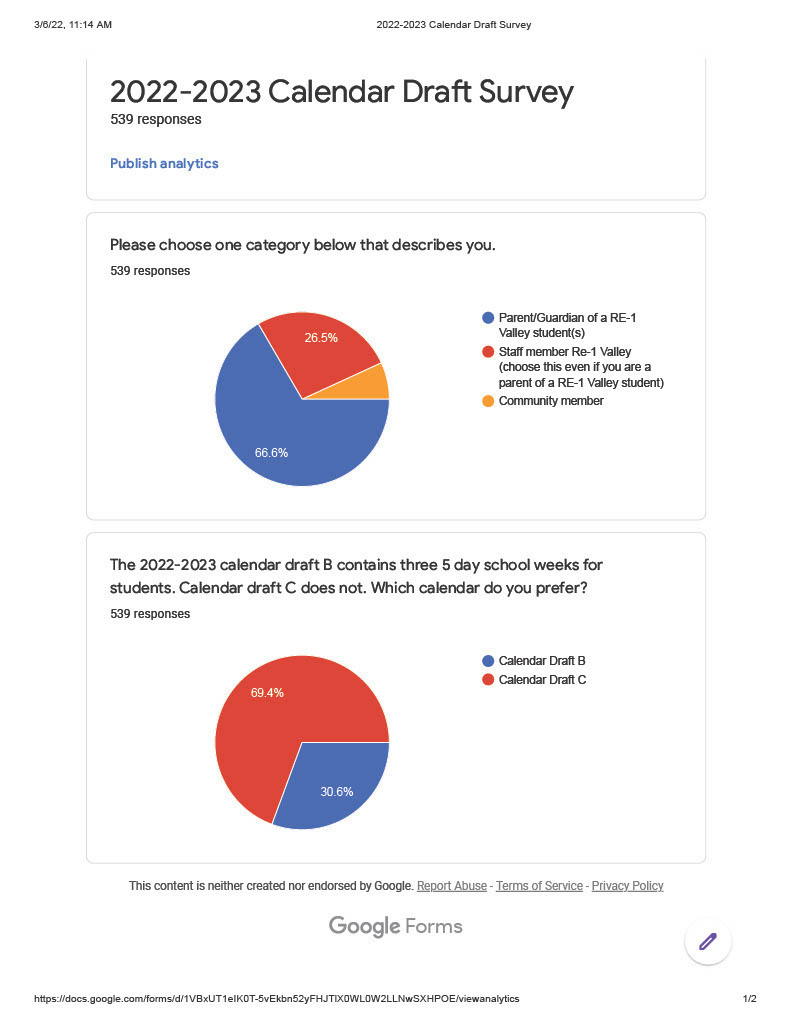 Hello RE-1 Community- RE-1 Valley School District will be closed tomorrow, February 2nd, due to adverse weather conditions. The recent update is calling for the majority of snowfall to occur throughout the night with higher winds expected. All activities scheduled are canceled as well. Thank you for your patience. Stay safe and warm.


You will have to click sign-in on the link and put your name an email into the link. Thank you for your patience as we learn how to use or larger Zoom Account.



The Sterling High School students will be remote for one day on May 18, 2021 due to a COVID positive exposure. The decision was made in conjunction with the Northeastern Colorado Health Department. The remote day allows for contact tracing to take place. This was a proactive step to prevent being deemed an outbreak that could impact upcoming events. The food service team will be preparing grab and go lunches to be picked-up from 11:00-12:00. Students that did not have direct exposure or have proof of vaccination will return to in-person on Wednesday. Please contact the office for additional information. Thank you for your patience as we continue to navigate the pandemic.

The Regular Meeting of the Board is cancelled for Tuesday, May 18, 2021 at 6:00 P.M. This meeting is being delayed due to the school finance act not being approved. The meeting will be rescheduled for the week of May 24th. The new date will be advertised as soon as it is scheduled. Thank you.